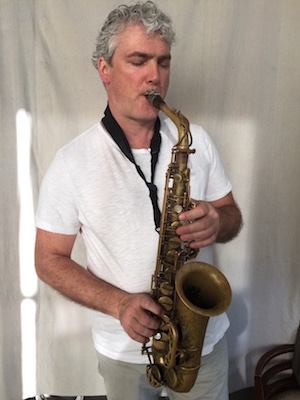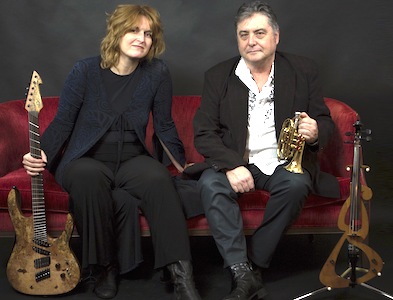 JOHN INGLE / KJELL NORDESON DUO
and VOLCANO RADAR



sfSound's saxophonist JOHN INGLE and percussionist KJELL NORDESON perform duo improvisations.

From Chicago, the freejazz/noise/avant guitar duo VOLCANO RADAR perform in a stylistic range from noise-funk improvisation to structured sonic forms.


VOLCANO RADAR is a fusion of ecstatic improvisational energy and Apollonian intellect. Uruguayan born multi-instrumentalist and composer Elbio Barilari and American guitarist and composer Julia Miller played together for the first time in 2012, and they made their first public appearance as Volcano Radar at the Empty Bottle shortly after. Their soundscapes have been described as: noise-funk, post-jazz, avant-rock, improvised experimental music, jazz-electronica and neo-psychedelia.

Volcano Radar has been joined in recordings and performances by Fareed Haque and Mathgames!; Edward Wilkerson Jr., reeds; Jim Gailloreto, reeds; Guillermo Gregorio, reeds; Alejandro Acierto, reeds; Harrison Bankhead, bass/cello; Rollo Radford, electric bass; Yosef Ben Israel, bass; Avreeayl Ra, drums; Tim Davis, drums; Ernie Adams, drums; Lou Ciccotelli, drums & percussion; Frank Rosaly, percussion; Gustavo Leone, synthesizer; Andy Cohn, keyboards; and Axiom Brass quintet.



Saxophonist/composer/improviser JOHN INGLE is originally from Memphis, TN and now resides and works in San Francisco. His music is informed and influenced by contemporary concert music, improvised music, electronic music, jazz, various Asian folk music traditions, and the blues and gospel of his native Southeast US. He collaborates with electronics innovator Laetitia Sonami, and in duo with NYC-based composer/dulcimerist Dan Joseph and is a founding member of the sfSoundGroup. John's solo saxophone music emphasizes multiphonics, vocal harmonics and subtle control of extended saxophone techniques, while his chamber music explores such musical parameters as spiral time, linear pulse, and non-linear harmony, and indulges in both simple resonance as well as complex timbre and auditory sleights-of-hand.

KJELL NORDESON divides his time between Stockholm and San Francisco. He has a BA from Stockholm University, and has studied classical percussion at Ingesund School of Music with Björn Liljeqvist, former principal percussionist of the Stockholm Philharmonic. Together with saxophonist Mats Gustafsson, he formed AALY Trio in 1986. AALY Trio became one of the leading groups in the Swedish experimental scene in the 90's. Nordeson has toured extensively in North America, Europe, North Africa and Japan with various groups. He has performed with Peter Brötzmann, Barry Guy, Ken Vandermark, Joe Morris, William Parker, Paul Rutherford, Gerry Hemingway, Frank Gratkowski, Stefano Scodanibbio, and many others.

Nordeson is a regular member of several musical groups. He performs most frequently with Katzen Kapell, Exploding Customer, School Days, Angles, Alberto Pinton Quintet, sfSoundGroup, and Torbjörn Zetterberg Octet. He has appeared on over 40 CDs with these and other groups. Since 2004, Nordeson has been active in the San Francisco Bay Area's thriving community of free-improvised, experimental and new music. He regularly plays with musicians Larry Ochs, Jon Raskin, Greg Goodman, George Cremaschi, Scott Looney, Damon Smith, John Ingle, sfSoundGroup, Aram Shelton, Darren Johnston, Lisa Mezzacappa and many others. In 2008, he collaborated with multimedia artist Katharine Gin to create This Place Called Poetry, a three-month exhibition at San Francisco Art Commission Gallery, in which Gin and Nordeson directed and produced a series of 11 short films portraying young San Francisco poets.