sfSound presents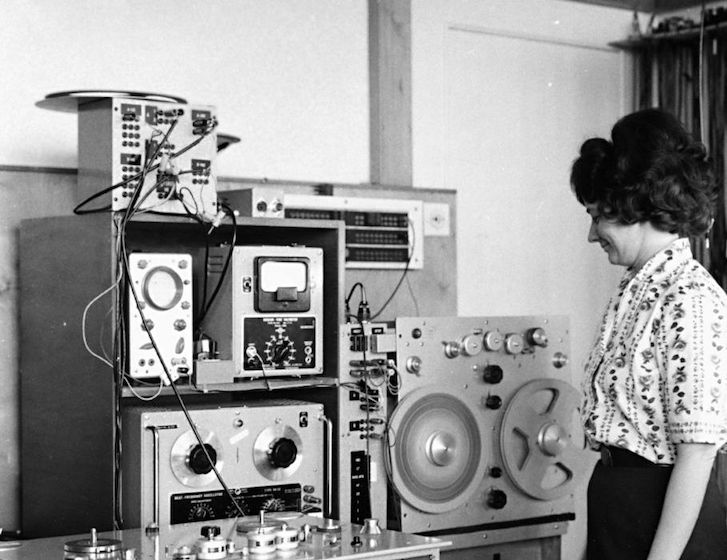 The San Francisco Tape Music Festival 2020

Friday, January 10, 8:30pm
Saturday, January 11, 7:00pm
Saturday, January 11, 9:30pm
Sunday, January 12, 7:00pm

Victoria Theatre
2961 16th Street
San Francisco

$20 general ($10 Sat 9:30 concert)
$10 balcony/underemployed
$50 fest pass (general seating all concerts)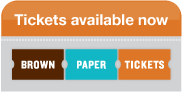 advance ticket purchase
or at the door (cash only) the day of show
(box office opens one hour before showtime)


---

America's only festival devoted to the performance of audio works projected in three-dimensional space, The San Francisco Tape Music Festival features four distinct concerts of classic audio art and new fixed media compositions by 35 local and international composers. Hear members of the SF Tape Music Collective, along with guest composers, shape the sound live over a pristine surround system (24 high-end loudspeakers) with the audience seated in complete darkness. It's a unique opportunity to experience music forming - literally - around you.

The 2020 Festival features contemporary "fixed media" compositions by eighteen international composers, including FRANCIS DHOMONT, NATASHA BARRETT, ROBERT NORMANDEAU, and BARRY TRUAX alongside tape classics by PIERRE SCHAEFFER, PAULINE OLIVEROS, and TORU TAKEMITSU. Bay area artists KENNETH ATCHLEY, BRUCE BENNETT, KYLE BRUCKMANN, BRAN(...)POS, THOM BLUM, CLIFF CARUTHERS, MATT INGALLS, DOUGLAS MCCAUSLAND, KRISTIN MILTNER, MICHELLE MOELLER, MAGGI PAYNE, and KEN UENO will also be presenting their works.

Saturday's 9:30pm concert features late-night-appropriate works that lean towards ambient and long-form-exploration.

In a special collaboration with SFSOUNDGROUP, the Sunday program features works for instruments and spatialized electronics, including the premiere of Ghosts of Ancient Hurricanes, a new comission by KEN UENO, the North American premiere of Force Fields by JONTY HARRISON, and DENIS SMALLEY'S classic Clarinet Threads.

The festival also pays tribute to electronic music pioneer MARIO DAVIDOVSKY (1934-2019) and "word jazz" sound artist KEN NORDINE (1920-2019).
P R O G R A M

Friday January 10, 2020 (8:30pm)
click here to download the PDF program
PIERRE SCHAEFFER - Étude aux casseroles [Pathétique] (1948)
PAULINE OLIVEROS - Poem of Change (1992)
BARRY TRUAX - The Garden of Sonic Delights (2016)
ROBERT NORMANDEAU - Tunnel azur (2016)
MAGGI PAYNE - Heat Shield (2018)
BRAN(...)POS - martian brine pool (2019)
CLIFF CARUTHERS - Cupido's Suitcase (2009)
MATTHEW BARNARD - Woche (with apologies to Ruttmann and Brock) (2011)
SANGWON LEE - Torturing Piano (2019)
:such: - Opaque Fragments (2017)


Saturday January 11, 2020 (7:00pm)
click here to download the PDF program
KEN NORDINE - Tick Tock Fugue (2011)
FRANCIS DHOMONT - Here and There (2003)
NATASHA BARRETT - Urban Melt in Park Palais Meran (2017)
THOM BLUM - To My Son Parker, Asleep in the Next Room (1996)
DOUGLAS MCCAUSLAND - ISOLATE (2019)
KRISTIN MILTNER - Mercey (2020)
CECILIA CASTRO (feat Astrosuka) - ROMA III: The Ruin (2018)
MICHELLE MOELLER - Spoke (2019)
FELIPE OTONDO - Irama (2012)
LEAH REID - Sk(etch) (2018)
DANIELLE SAVAGE - Schizo Phonia (2018)
FULYA UÇANOK - Assembly (2017)


Saturday January 11, 2020 (9:30pm)
click here to download the PDF program
TORU TAKEMITSU - Vocalism Ai (1956)
KENNETH ATCHLEY - bay sky hills fog (2019)
BRUCE BENNETT - Stretch (2001)
SAVANNAH AGGER - Undercurrents (2016)
LÉA BOUDREAU - Quatre machines pour sauver le monde (2019)
NICOLA GIANNINI - Eyes Draw Circles of Light (2019)
TROND LOSSIUS - Listening understood as inhabiting (2015)


Sunday January 12, 2020 (7:00pm)
click here to download the PDF program
a special 3-set concert of works for instruments and fixed media featuring sfSoundGroup
MARIO DAVIDOVSKY - Synchronisms #2 (1964) (for flute, clarinet, violin, cello, and tape)
MARIO DAVIDOVSKY - Synchronisms #3 (1964) (for cello and tape)
KEN UENO - Ghosts of Ancient Hurricanes (2019)
(for 6 winds, percussion, throat singer, 8 megaphones, microtonal metal pipes, and 4-channel tape -- WORLD PREMIERE COMMISSION BY SFSOUND)
JONTY HARRISON - Force Fields (2006)
(for chamber ensemble and 8-channel tape -- AMERICAN PREMIERE)
DENIS SMALLEY - Clarinet Threads (1985) (for clarinet and tape)
KYLE BRUCKMANN - Clutterfields (filthy quilt) (2019) (for oboe, bass clarinet, and laptop)
MATT INGALLS & SFSOUND - Blue Sedan (2020) (for closely-miced chamber ensemble, live processing, and tape)


P E R F O R M E R S
Diane Grubbe, flutes Kyle Bruckmann, oboe & english horn
Matt Ingalls, clarinets John Ingle, saxophone, conductor
Tom Dambly, trumpet Brendan Lai-Tong, trombone
Hadley McCarroll, piano Kjell Nordeson, percussion
Benjamin Kreith, violin Natalia Badziak, viola
Monica Scott, cello Lisa Mezzacappa, bass
Ken Ueno, voice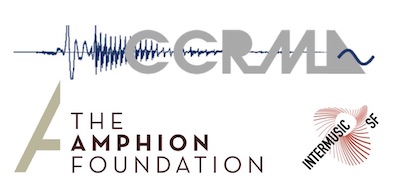 equipment kindly provided by The Center for Computer Research in Music and Acoustics (CCRMA) at Stanford University and sfSound.

Ken Ueno's commission funded in part by Intermusic SF's Musical Grant Program and The Amphion Foundation.

Co-promotion provided by the best radio station EVER, KFJC 89.7FM